Gantry Crane (Ship building)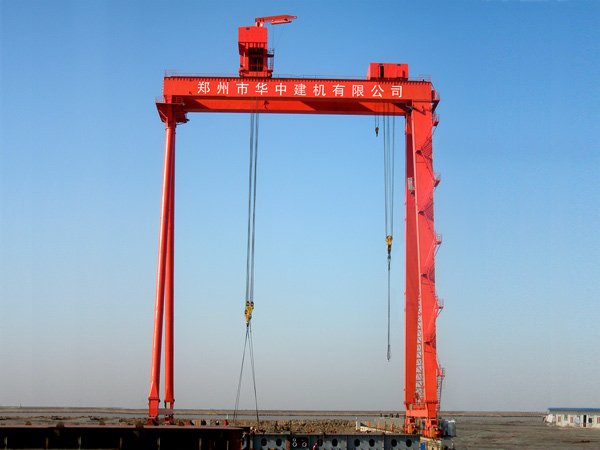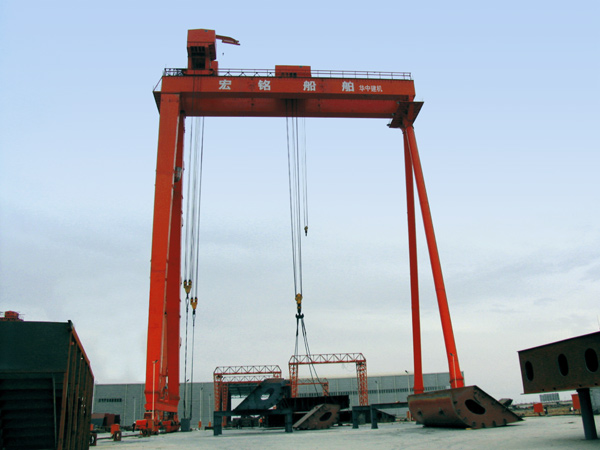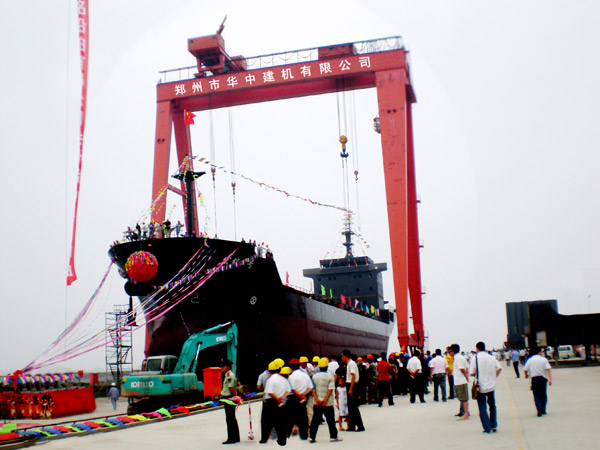 1. Application range of Gantry Crane (Ship building)
The gantry crane for ship-building is box-girder structure welded by steel plate and lifting height is 50m. It consists of a main trolley and two auxiliary trolleys which can make the objects overturning come true in the lifting process. Also a 5 Ton lifting appliance special for maintenance is equipped. This gantry crane for ship-building can be used in manufacturing 50,000 tonnages ships.
2. Main features and advantages of Gantry Crane (Ship building)
● Box girder, high strength.
● Both girder ends with cantilever, spacious working place.
● High work level, high speed and high efficiency.
3. Main technical parameters of Gantry Crane (Ship building)
| Product Model | MUhz(60t×2+20t) | MUhz(300t×2+400t) |
| --- | --- | --- |
| Lifting capacity(m) | 120 (≥11) | 600 (≥11) |
| Overturn capacity(t) | 120 | 600 |
| Span(m) | 40 | 180 |
| Lifting height above rail(m) | 50 | 80 |
| Lifting height below rail(m) | 6 | 12 |
| Carne moving speed with full load(m/min) | 0-30 | 0-35 |
| Carne moving speed without load(m/min) | 0-45 | 0-45 |
| Working level | A5 | A3 |
| Upper trolley lifting capacity(t) | 2×60 | 2×300 |
| Upper trolley lifting speed(m/min) | 0-5 | 0-3 |
| Upper trolley moving speed with full load(m/min) | 0-30 | 0-30 |
| Upper trolley moving speed without load(m/jmin) | 0-45 | 0-45 |
| Down trolley lifting capacity (t) | 120/20 | 4000/20 |
| Down trolley main hook lifting speed(m/min) | 0-5 | 0-3 |
| Down trolley auxiliary hook lifting speed(m/min) | 0-20 | 0-20 |
| Down trolley moving speed with full load(m/min) | 0-30 | 0-30 |
| Down trolley moving speed without load(m/min) | 0-45 | 0-45 |
| Wheel press(kn) | 340 | 938 |
| Power supply | AC 10KV 50HZ | AC 10KV 50HZ |
To: Aaron Hou & zzhz114@gmail.com