Gantry Crane (Lifting Girder)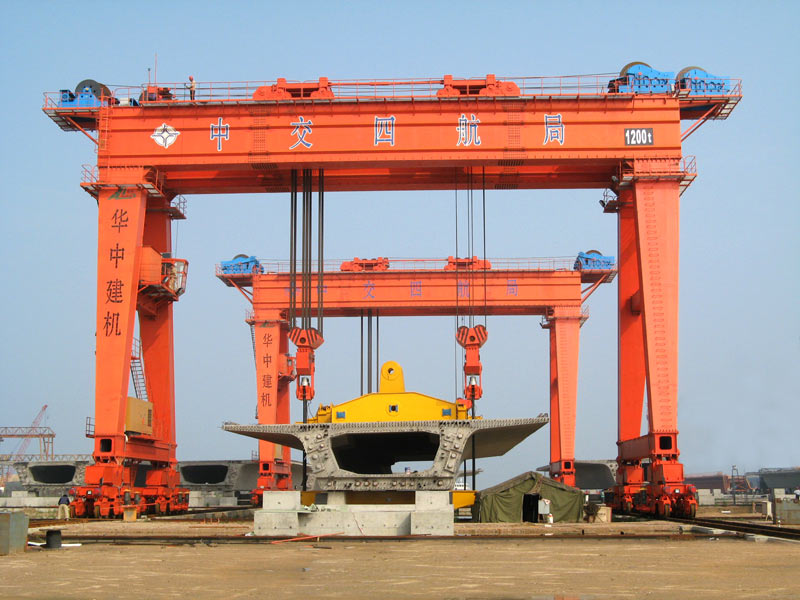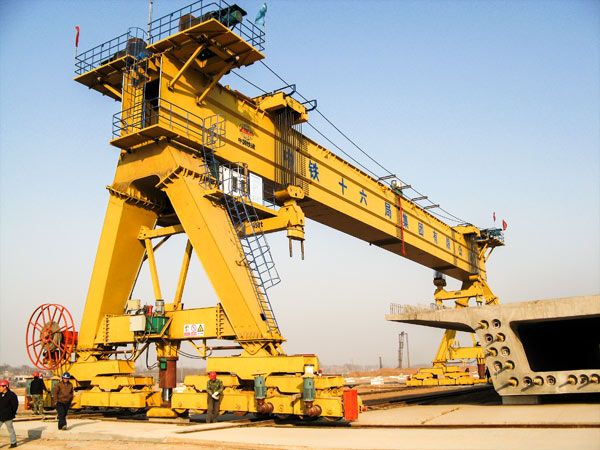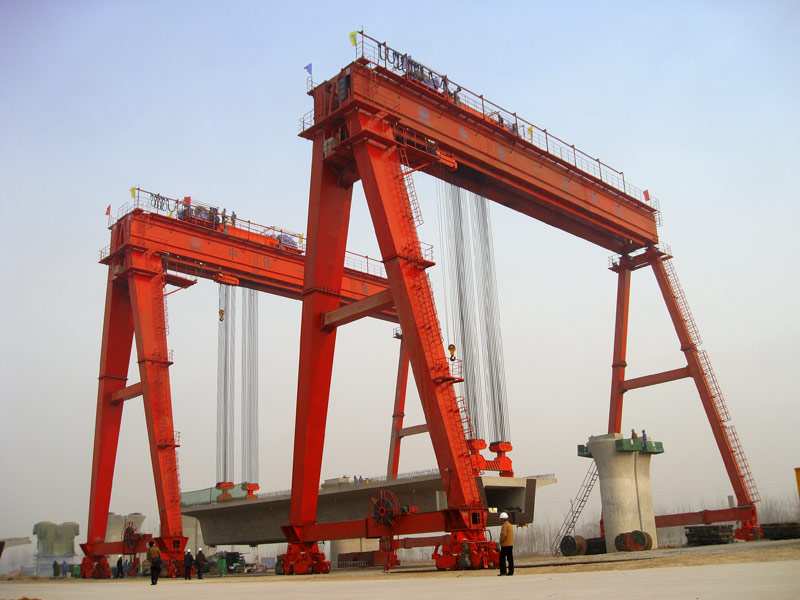 1. Application range of Gantry Crane (lifting girder)
The heavy-duty hoisting equipment of 1200t gantry crane (Girder-lifting Machine) is mainly used for hoisting the concrete girder in the girder-erecting projects such as the super highway, high-speed railway construction . It's a kind of equipment which applies for the pre-cast girder yards, boathouse and the landing stage of a port. With 2 sets of the crane, its operation procedure is that lifting the box-girder moving along the rails, hoisting the girders in the pre-cast girder yard, transverse moving the concrete girder, With 1 set of the gantry crane, it also can accomplish the task of hoisting, transverse movement and loading.
2. Main features and advantages of Gantry Crane (lifting girder)
In China, the largest tonnage of gantry crane for super highway and high-speed railway construction projects is designed, manufactured and assembled by our company which is used in the Qingdao Crossing Sea Bridge (China Communications Construction Co., Ltd Fourth Harbor Engineering Co., Ltd)
● The gantry of 1200t gantry crane is double box-girder structure, twin rigid supporting legs which can meet the demands of high strength, stiffness and steadiness of large tonnage gantry crane.
● Double hoisting trolleys to operation synchronized. We will equip with 2 sets of hoisting trolleys for every gantry crane and connect them with the pull rod. Adjust the transverse distance between two trolleys by changing the length of the pull rod.
● The crane traveling mechanism is double tracking and tri-layer balance which can apply to the changes of vertical and horizontal gradient, and with the characteristics of balancing the wheel pressure. The traveling mode is rail-mounted and the total moving mechanism can accomplish the direction change "90º".
● The trolleys of two gantry cranes can meet the requirements of four-point hoisting and three-point balance to guarantee to place the girder accurately and avoid damages of concrete girder in the process of hoisting.
● Every set of gantry crane is equipped with the internal-combustion generating set to supply power, therefore it also can be applied in the power shortage circumstances.
● The electrical system adopts the advanced control technology with the PLC at the core, with the characteristics of frequency conversion, touch screen display operation, remote control, all kinds of safety protection and faults detection. The system takes wireless LAN communication module to attain the synchronous hoisting operation of two gantry cranes.
● The A.C. variable frequency motor drives the hoisting mechanism, crane traveling mechanism and trolley traveling mechanism. With the electrical system, we can realize the infinitely variable speed, soft starting, soft stopping and avoid the collision.
3. Main technical parameters of Gantry Crane (lifting girder)
| Product Model | MGhz450 | MGhz500 | MGhz900 | MGhz1200 |
| --- | --- | --- | --- | --- |
| Lifting capacity (t) | 450 | 500 | 900 | 1200 |
| Span (m) | 39.5 | 36 | 41.5 | 28 |
| Lifting height (m) | 26 | 16 | 9.8 | 19 |
| Crane moving speed | 0-6 | 0-6 | 0-6 | 0-6 |
| Trolley moving speed | 0-4 | 0-3 | 0-3 | 0-2 |
| Trolley lifting speed | 0-0.5 | 0-1 | 0-0.5 | 0-1 |
| Power (kw) | 165 | 200 | 260 | 305 |
| Dimension (m) | 43×16.5×32.8 | 39.7×13.1×22 | 45.4×14.8×14.5 | 39.6×7.6×24 |
| Self-weight (t) | 475 | 390 | 480 | 606 |
To: Aaron Hou & zzhz114@gmail.com