Bridge Girder Launcher for Tunnels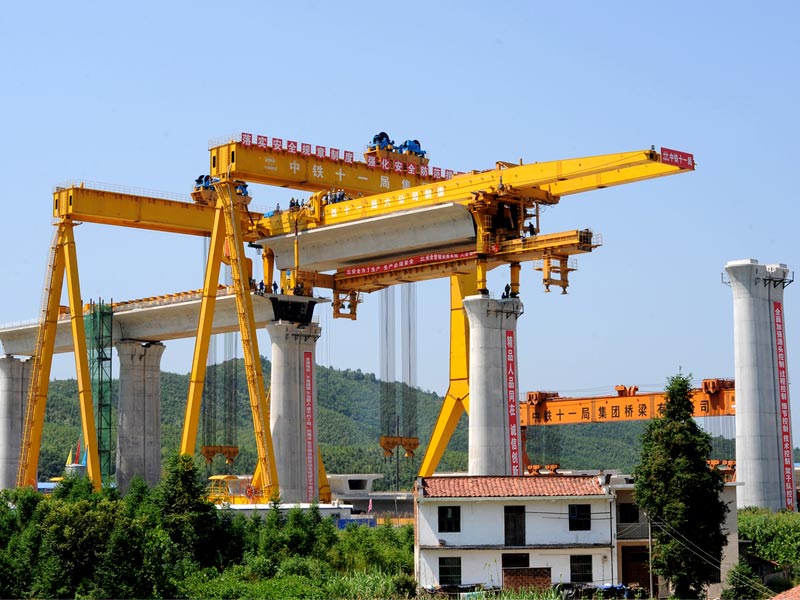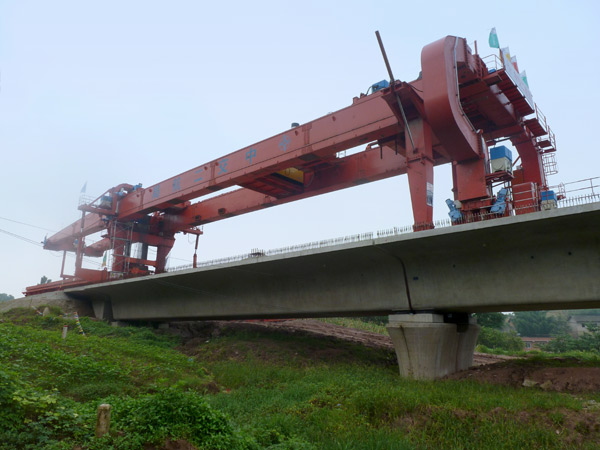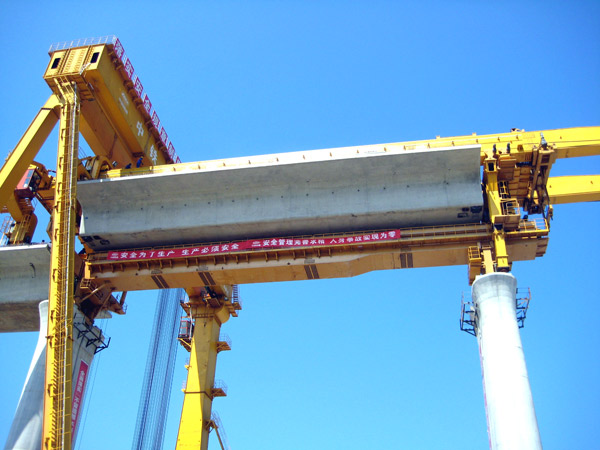 1. Application range of THQ900t bridge girder launcher for tunnels
ZZHZ develops THQ900 bridge girder launcher for tunnels and THY900B girder transporter to solve construction technical problems below:
● high speed railway bridge and tunnels are connected frequently
● the bridge girder launcher and girder transporter need to smoothly pass the tunnel to install girders
THQ900 bridge girder launcher in tunnels and THY900B girder transporter can meet the demand to install double track whole span box girder32m, 24m, 20m for passenger special line, as well as meet the demand of span shift, tunnel entrance and exit 6m abutment and erecting curved bridge.
2. Main features and advantages of THQ900t bridge girder launcher for tunnels
● construct bridge connected with tunnel, reduce cost of dismounting many times
● four fixed points lifting precast girders with balanced lifting capacity ensure the safety of concrete box girder and lifting system structure. Slight longitudinal and lateral movement of lifting system can realize accurate positioning as installing box girder
● launching nose and bridge girder launcher do a cooperative work to cross piers longitudinally, featuring easy operation, safe and reliable
● can realize span shift installation and curved bridge erection, tyred girder transporter can directly carry the bridge girder launcher to transfer sites and pass the tunnels
● matched with the launching nose, lifting trolley and auxiliary overhead crane, the bridge girder launcher can install the first and last girders as well as girders for tunnel entrance and exit.
3. Main technical parameters of THQ900t bridge girder launcher for tunnels
Product Model
THQ900
Rated lifting capacity (max lifting capacity) (t)
900
Max size of the girder (m)
32.6×12.6×3.05
Moving speed of bridge girder launcher (m/min)
0-3
Trolley longitudinal moving speed (m/min)
0-3 (full load)/ 0-6 (empty load)
Trolley lifting speed (m/min)
0-0.5 (full load)/ 0-1(empty load)
Max lifting height (m)
7
Precast girder horizontal fine-tuning distance (mm)
±200
Precast girder fine-tuning speed (m/min)
0-1
Min radius of curved bridge (m)
1500
Applicable gradient
Longitudinal gradient 20‰,
transverse gradient 40‰
Power (kw)
300
Out dimension (m)
61×15.3×14.6
Total weight (t)
585
To: Aaron Hou & zzhz114@gmail.com