What is adjustable gantry crane?
The new type adjustable gantry crane is developed to meet the daily needs of small equipment handling, goods delivery in the warehouse, material transportation and equipment lifting and maintaining. It could move to all directions, be in quick assembly and disassembly, could be moved to another worksite with small cars. With adjustable height and width, reliable steel structure design and load capacity from 100 to 5000kg, the gantry crane is especially suitable for light duty work in the workshop like equipment assembling, moving and debugging.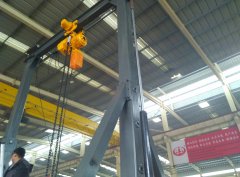 The gantry crane is widely used in material handling workshop, mould factory, repair factory and hardware factory. With 4 omni-directional wheels and adjustable height, it could move with lifting objects conveniently. To suit different customers' demands, it could be equipped with electric hoist, chain hoist or electric chain hoist with a lifting capacity 0.5t, 1t, 2t, 3t or 5t.
Special structure:
Its stand column uses large and small rectangular steel tubes connecting with base foundation, outer rectangular steel tube connecting with base foundation, inner rectangular steel tube connecting with I beam. To meet the demands of customer, punch holes on the square pipe. As adjusting the height, jack the inner square pipe up to proper height by manual hydraulic jack, then put pins into the holes and fix them with screws. The gantry crane could be used in workshops with different height; max adjustable height is 2m. As the workshop height is limited, a low headroom electric hoist could help realize easy operation.