Main Structure of HZQ 50/160 Bridge Building Crane <1>
Main Structure of HZQ 50/160 Bridge Building Crane <1>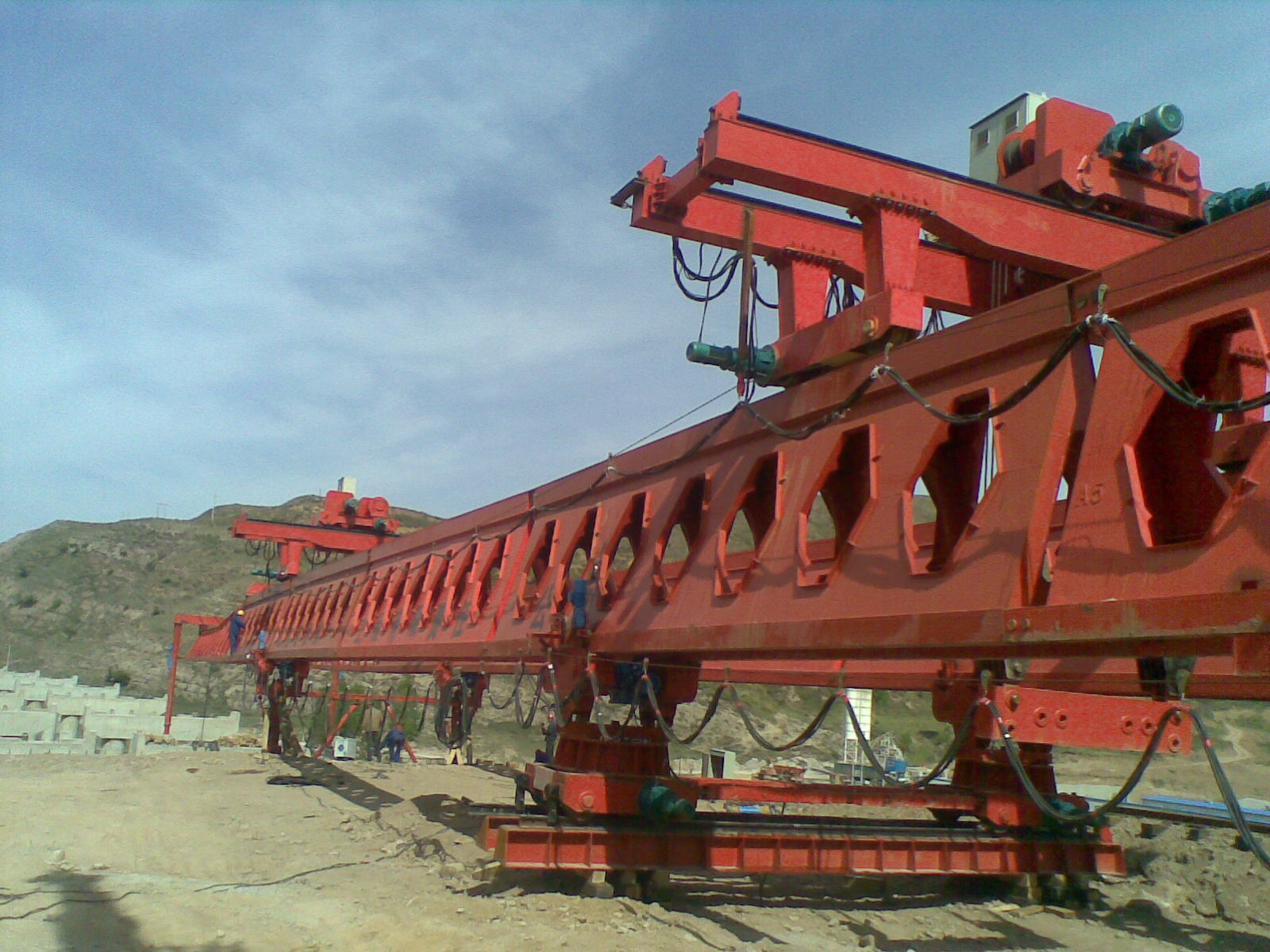 After finished introduction the assembly solution of HZQ50/160 bridge building crane, now here is the introduction of its main structure.

Composed of main girder, trolley, support legs, horizontal direction track, edge beam, hydraulic and electrical controlling system, main structures of HZQ50/160 honeycomb girder bridge building crane are as following:

1. Main Longitudinal Girder:

HZQ50-160 Bridge Building Crane is composed of left and right main longitudinal girders, each main girder includes 8 solo segment girders. Pins will be used between all the girders and there are 6 pins for each section. There is track on the girder, which is convenient for lifting trolley to carry girders in longitudinal direction. Front, middle and back outriggers will be installed under main girders, six outriggers in total.

2. Lifting Trolley:

Lifting trolley of HZQ 50/160 bridge building crane is made of rack, winch, pulley block and walking wheel box.

Rack is the support mechanism of lifting trolley of HZQ50-160 bridge building crane, which includes two main girders and traverse support and welded with steel plate and structural steel. Every lifting trolley is equipped with two winches and every winch is installed with a hoist mechanism.The hoists contain five fixed pulley and movable block and the lifting capacity of every block is 40t.

Under two pulley blocks there is one suspension girder connected. You can find that there are pin holes on suspension girder and prefabricated girder will be hanged on the suspension girder. Then the bridge girders will be placed in the right position by longitudinal and traverse moving of the bridge girder launcher. Lifting capacity of every suspension girder will be 80t.

Under the rack there are two walking wheel boxes. A driving wheel and a driven will be installed on each walking wheel box respectively. Driving wheel is hosted by motor and reducer to accomplish moving on the lifting trolleys in forward and backward direction.

3. Connection Frame:

Connection frame is composed of front, middle and back parts. Front connection frame connects front ends of two main longitudinal girders with two front outriggers. Middle connection frame includes round girder and its support, which links main longitudinal beams. Back connection frame is installed on the top of main longitudinal beam. Front, middle and back connection frames and lifting trolley combine both main girders together.
ZZHZ Related Products:
Gantry Crane, Overhead Crane, Bridge Girder Launcher, Girder Transporter, Concrete Batching Plant, Concrete Mixer and etc.

See more, please visit our website: zzhz.com

Email: zzhz114@gmail.com Tel: 86-371-68000000