Assembly Solution for HZQ Honeycomb Bridge Girder Launcher
Assembly Solution for HZQ Honeycomb Bridge Girder Launcher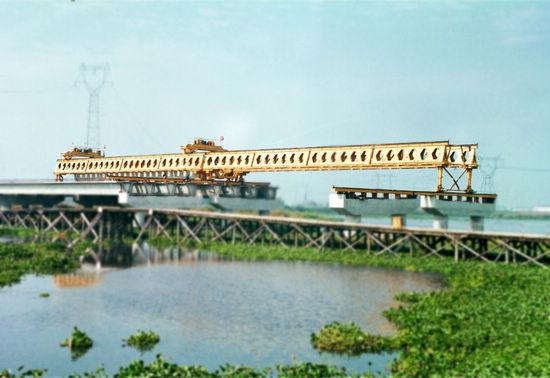 In this article, I will introduce something important about how to install HZQ honeycomb bridge girder launcher, which is one of our patented products ------ Zhengzhou Huazhong Construction Machinery Co., Ltd, short for ZZHZ.

Step One: Install tranverse moving track

1. Place sleeper: Place sleepers on the ends of bridge or precast beam. The distance between both sleeper should be kept half of one meter. The sleepers need to be set in alignment and parallel with piers. It had better keep the two sleepers in horizontal direction as soon as possible.
2. Place tranverse moving track: Truck-mounted crane or other hoisting cranes will be used to place each piece of tranverse moving track on the sleepers.
3. Rectify: Use a level gauge to rectify the transverse moving track.
4. Bearing pad: Should there was interval or empty between tranverse moving track or sleepers, steel plate would be used for supporting, then fill in the interval or empty. Especially for the cantilever of the tranverse moving track, three tips should be noticed:
a. Tranverse moving tracks must be lifted in a vertical direction.
b. No person is allowed to sitting under the lifting hook.
c. There is not allowed any hollow for sleepers under the tranverse moving track, so that it can prevent the track turning over.


Step Two: Install supporting wheelset

1. Place down wheelset: Install motor in the rear direction and place the down wheelset on tranversed moving track. It had better keep the down wheelset to girder transporter in a possible direction.
2. Install motor and reducer assembly: If there is down wheelset out of the track, please add certain grease and install motor and reducer assembly with bolts, then add oil.
3. Install rotary support: Place rotary support on the down wheelset and install pin roll, nut and spacer.
4. Install up wheelset: Place up wheelset on rotary support. Install pin roll and
5. Install motor and reducer assembly: Add moderate grease on gears and install motor and reducer assembly on the wheelset over bolts.
6. Middle connection rod: Connect middle down wheelset with middle connection rod and install cotter. Requirements for this installation step is as following:
a. Because middle wheelset is easily to turn over, it is necessary to turn up to the lifting location then lift the wheelset in verticle direction to avoid hurting people.
b. Rotary pin roll must be installed to its right position.
ZZHZ Related Products:
Gantry Crane, Overhead Crane, Bridge Girder Launcher, Girder Transporter, Concrete Batching Plant, Concrete Mixer and etc.

See more, please visit our website: zzhz.com
Email: zzhz114@gmail.com Tel: 86-371-68000000