History of Gantry Crane for Lifting Containers
History of Gantry Crane for Lifting Containers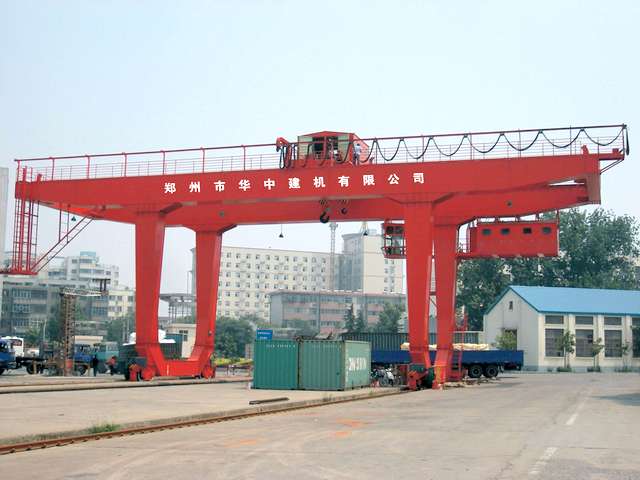 As we all know, after World War II there was a technological revolution in transportation trade, especially for container transportation. In the mid-sixties container transportation has received wide attention around the world and developed rapidly to form into a complete transportation system. International Organization for Standardization provide unified specification for container. In order to develop container transportation, many kinds of load handling machinery come into the history of gantry crane. Container gantry crane always includes tyre container crane and rail mounted container crane, which are the frequently used and typical types for lifting containers.
At present, domestic and international container gantry crane has been developing into a direction of automatic handling load. In order to improve efficiency of cargo-handling, engineers make use of computer to control actions of the gantry crane, which will promise that goods can be transported into a specified location safety and accurately.
With the development of social productivity, technology and equipment of lifting machinery have a huge improvement. One of the reasons the gantry crane are attracting increasing attention is that lifting machinery are important equipment for mechanism logistics system. In the future, gantry crane will have more application range with the social development.According to the requirement of daily life of human being, more and more new type of lifting machinery with special usage will continue to emerge.
In fact, gantry crane is a kind of bridge crane. Due to the metal structure of the lifting equipment looks like a door frame and there are two outriggers installed under the main longitudinal beam, it can travel along the track on the road. In addition, both sides of main beam sometimes may also have cantilevers, therefore everyone can accept its name called "gantry crane"according to its overall shape. The function of cantilever can enlarge the traveling distance of trolley on the main beam and it can also expand the working scope of the gantry crane.
ZZHZ Related Products:
Gantry Crane, Overhead Crane, Bridge Girder Launcher, Girder Transporter, Concrete Batching Plant, Concrete Mixer and etc.
See more, please visit our website: zzhz.com
Email: zzhz114@gmail.com Tel: 86-371-68000000