What are Main Structure of Honeycomb Girder Gantry Crane?
What are Main Structure of Honeycomb Girder Gantry Crane?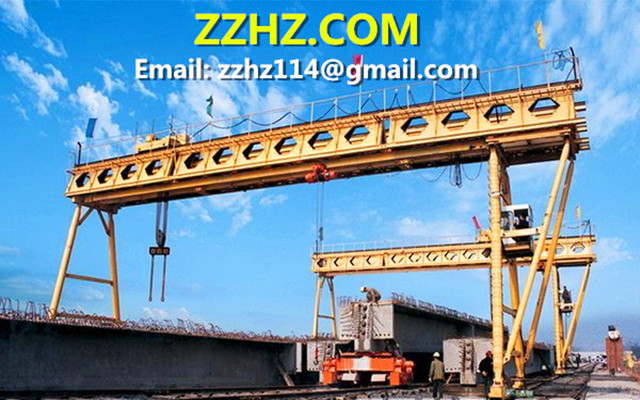 Crane moving system is usually include two driving wheels, two driven wheels and four wheel boxes. Inside driving wheels there is a driving traveling wheel and a driven traveling wheel. Outside the wheel boxes there are installed a reducer with a braking motor. While the wheel boxes are working, braking motor will drive the reducer to work, after that, crane moving system will travel along the track. If the honeycomb girder gantry crane stop, braking flange on the braking motor will reset to make sure it can be locked immediately.
Gantry mounting frame of honeycomb girder gantry crane is composed of main beam and rigid outrigger and flexible outrigger and trimming joist. Outrigger and main beam are connected with bolts, which is easily installed and firmly fixed. On the flexible outrigger there is welded a row of climbing ladder to arrange circuit line. Operators can go in to the driver's cab through escalator, or they can also go upside to get to the walkway.
Driver's cab of honeycomb girder gantry crane includes cab body and electrical control box. Outside of the driver's cab is welded with steel plate. Supported by fashioned iron, the driver;s cab is installed in the middle of inclined outrigger and straight outrigger. In front and at both sides of the cab there is glass window with open view, operators can see all the working situation over the window. All the control system of the honeycomb girder gantry crane is mounted inside the driver's cab the crane operator can control all the actions of the gantry crane when he is in the cab.
4. Main Longitudinal Beam
Main longitudinal beam of the honeycomb girder gantry crane is in double amplitude triangle shape. Each segments of main beam is connected by steel pins. Two main longitudinal beams are a steel structure through three connection frames and they are fixed on the gantry mounting beam by bolts. On the top of main longitudinal beam there are steel tracks to support the traveling trolley.
In order to maintain and repair the honeycomb girder gantry crane, walkway will be designed on one side of main longitudinal beam. Both sides of walkway is arranged guarding rail and operators can get the the walkway trough climbing ladder. There is also a platform set on rigid outrigger to repair electric hoist.
Lifting trolley of honeycomb girder gantry crane is mainly composed of trolley frame, winch, pulley block and movable block.
Trolley frame is load-bearing and traveling mechanism of lifting trolley, which is welded by steel plate. Both sides of trolley frame are arranged a wheel box, each wheel box is installed with a driving and driven wheel. Outside of the wheel box is mounted a reducer and a braking motor, whose working principle is similar with crane moving system.
Winch mechanism is arranged on the top of lifting trolley to lift and lower load. Every winch has pulley block and movable block. Pulley block is fixed on trolley frame and movable block is hanging under the trolley by steel wire rope and the end of steel wire rope is twined and locked on the rope roll or pulley block. When the winch is working, steel wire rope will pull the movable block to lift the load up and down, thus loaded goods will be lifted and lowered.
Electrical hoist is used for lifting small goods, joist steel track is connected with the lower main longitudinal beam. Electrical hoist can move fast along the track.
ZZHZ Related Products:
Gantry Crane, Overhead Crane, Bridge Girder Launcher, Girder Transporter, Concrete Batching Plant, Concrete Mixer and etc.
See more, please visit our website: zzhz.com
Email: zzhz114@gmail.com Tel: 86-371-68000000