Hydraulic System of HZY900t Girder Carrying Vehicle
Hydraulic System of HZY900t Girder Carrying Vehicle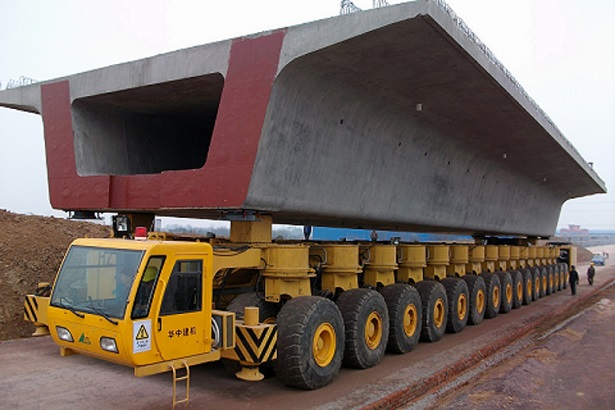 The drive adopts closed static hydraulic and electro-hydraulic control system. Working hydraulic system is open and hydraulic, which adopts constant power and load sensing control. Working hydraulic system includes hydraulic suspension, hydraulic turning and hydraulic outrigger. Hydraulic suspension system adopts electro-hydraulic control to realize up and down in group or entirety. Hydraulic turning system is electro-hydraulic proportional closed loop control to get precise command of the turning angle of each wheel set. With simple structure and convenient operation, hydraulic outrigger system is controlled by hand.

There are multi-positions for testing in turning system, up and down system, driving system, braking system and outrigger system, which can meet the requirements for all oil-way.

1. Traction Distribution and Overspeed Protection
It is a key issue to slove for multi-axle vehicles during moving. Multiple oil-way and digital difference can promise traction of each driving wheel in equal and prevent tracksliping. Each driving wheel is driven by a variable hydraulic motor wheel gear reducer. Rotary speed sensor is installed on hydraulic motor and all hydraulic motor is in parallel connection.

2. Pipeline Anti-explosion Protection
It is a key issue to solve during travelling for vehicles with multi-axle driving mechanism. Pipeline anti-explosion safety valve will be applied. Should any pipeline blows out, anti-explosion valve will stop the explosed oil-way immediately. After changed pipeline, it can still keep travelling in regular.

3. Main components adopt international famous brand.

4. There are many testing points arranged, so that it is convenient for operators to examine.
ZZHZ Products:
gantry crane, overhead crane, bridge girder launcher, girder carrying vehicle, concrete batching plant

Email: zzhz114@gmail.com Website: zzhz.com