What is information management system of beam launcher?
Information management system could realize comprehensive monitoring on running status of beam launcher, early warning on many kinds of danger and information management on operation, thus effectively improve safety level and working efficiency of beam launcher.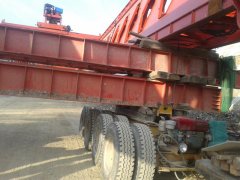 Information management system is made up of safety monitor and video monitor on the beam launcher and lifting machinery information management system in the remote administration center.
Safety monitor of beam launcher is made up of host computer with dynamic display (brake control inside), angular transducer, height sensor, dip angle sensor, air velocity transducer, lifting weight sensor, longitudinal journey sensor, lateral journey sensor, horizon sensor, wireless communication modular and other parts, which could realize to collect and show the running status of beam launcher
Video monitor is made up of cameras set on front support leg, middle support leg and overhead trolley and displayer in the cabin, which are used to monitor crossing spans condition and connection condition between beam launcher and girder carrier.
Information management system for lifting machinery could realize real time management on multiple projects and multiple beam launchers running status and safety condition, which helps meet the demand on long-distance information management on beam launchers.