Safety Precaution of the Gantry Crane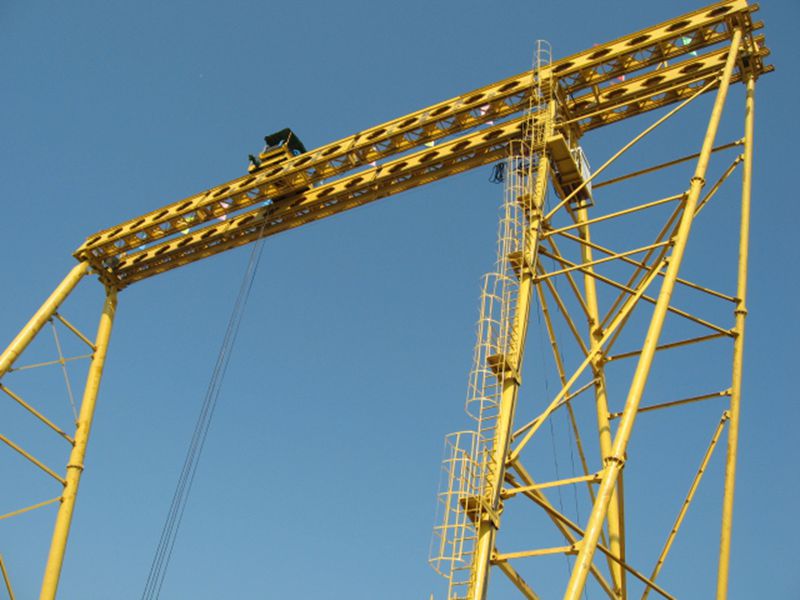 1. Construction workers should always have in mind safety first and realize the importance of safe production and civilized construction.They should be educated and inspected before work and make summary after work. All the construction workers must comply with the field rules and safety regulations relating to OTC operations.

2. All the construction workers must be trained strictly and appointed after qualification (welder, rigger, operators, etc.) Once entering the construction site, they must comply with the "six disciplines of the field".

3. Lifting sling should have a safety factor of more than five times and the binding wire a safety factor of more than 10 times.

4. Red and white belt should be pulled in the construction area which should be supervised by certain people. Non-construction personnel are prohibited from entering the construction area. When lifting, construction personnel shall not stay near the hook,lifting arm and bearing rigging.

5. Installation shall be forbidden with the wind speed more than 5.

6. Lifting personnel must comply with the principle of "no hoisting for 10 circumstances". The commander's password must be clear and correct and the operator should concentrate on operation and obey the command.

7. No person is allowed to rise and fall with the link.The link must rise slowly and steadily to avoid vibration and swing.

8. All the construction workers must know the install scheme and technology before construction program and be familiar with the operation and specific steps. During the construction process, any person shall not arbitrarily change the job requirements of the construction scheme. If
adjustments need to be made in special circumstances, certain procedures must be adopted to ensure the safety of the construction process.
ZZHZ Related Products:
Gantry Crane, Overhead Crane, Bridge Building Crane, Concrete Batching Plant, Concrete Mixer