China-Thailand railway begins construction
China-Thailand railway project launching ceremony was held at Chiang Rak Noi Station in central Thailand's Ayutthaya province, according to the CRC. It is said that China and Thailand will cooperate to build the first standard gauge railway in Thailand.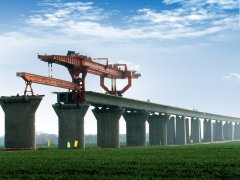 The 845km railway is designed with speed 180km-250km per hour, all construction uses China technology, standards and equipments.
China-Thailand railway projects include 4 sections, namely, Bangkok-Kaeng Khoi, Kaeng Khoi-Map Ta Phut, Kaeng Khoi-Nakhon Ratchasima and Nakhon Ratchasima-Nong Khai.
The construction of China-Thailand railway is good for Thailand infrastructure construction, regional connectivity and commodity exportation as well as good for providing a new lane for Chinese tourists to go to Thailand fast.