How about welding and painting of crane steel structure?
Reliable welding will ensure the safe use of cranes, while good painting of steel structure will help delay the corrosion progress, thus lengthen its service life as well as maintain a good apperance.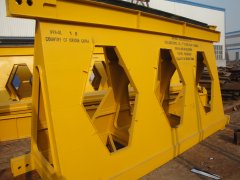 About the welding part for cranes, we use CO2 gas shielded welding which is suitable for high strength steel plates such as Q345 and Q235. Flaw detection for every important welding joint will be done by Ultrasonic Testing equipment;
About corrosion resistant coating, the steel structure will be in sand blasting treatment before coating the zinc rich premier, then aliphatic polyurethane medium coat and top coat, which ensures good appearance of steel structure and avoids fast corrosion of steel structure.